Content
Here you can look at the HEC-2 and HEC-RAS files and download them for further study.
These files contain data for the HEC-2 and HEC-RAS hydraulic models developed by the US Army Corps of Engineers Hydrologic Engineering Center. The data were used to calculate water surface elevations in the creeks for previous flood insurance studies in Santa Clara County.
Note that these data files may be 20-25 years old and may not reflect the current creek condition. The District also maintains HEC-RAS and HEC-2 files that are generated in District's flood control projects. If you need those data, please contact Liang Xu at [email protected].
Disclaimer: The District is offering this information as a free service. We cannot guarantee the accuracy of your modeling results.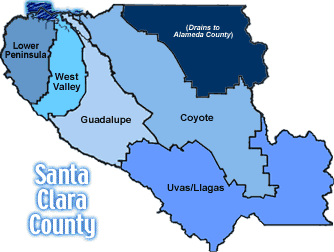 ADOBE CREEK
ALAMITOS CREEK
BAR.CR.OVERFLOW
BARRON CREEK
BARRON DIVERSN
BERRYESSA CREEK
CALABAZAS CK
CALERA CREEK
CALERO CREEK
CANOAS CREEK
CORRALITOS
COYOTE CREEK
DEER CREEK
E. LITTLE LLAGAS
EAST PENITENCIA
EVERGREEN CREEK
FISHER CREEK
GOLF CREEK
GREYSTONE CREEK
GUADALUPE CREEK
GUADALUPE RIVER
GUADALUPE SLOUGH
HALE CREEK
L. PENITENCIA
L. SILVER CREEK
L. MILLER SLOUGH
LIONS CREEK
LLAGAS CREEK
LOS COCHES
LOS GATOS CREEK
MADRONE
MATADERO CREEK
N. MOREY CHANNE
NORWOOD CREEK
PERMANENTE CK
PERMANENTE DIV
PRINCEVALLE D.
ROSS CREEK
S. BABB CREEK
S. MOREY CREEK
SAN FRANCISQUITO
SAN TOMAS CREEK
SARATOGA CREEK
SIERRA CREEK
SMITH CREEK
STEVENS CREEK
SUNNYVALE EAST
SUNNYVALE WEST
TENNANT CREEK
THOMPSON CREEK
U. PENITENCIA
U. MILLER SLOUGH
UPPER SILVER
UVAS CARNADERO
W. BRANCH LLAGAS
W. LITTLE LLAGAS
WILDCAT CREEK
WRIGLEY FORD CK