Content
Meet the Santa Clara Valley Water District Executive Management Team
CEO: Norma Camacho
Norma Camacho is the Chief Executive Officer of the Santa Clara Valley Water District, appointed by the Board of Directors on Aug. 22, 2017. The Santa Clara Valley Water District manages an integrated water resources system that includes the supply of clean, safe water; flood protection; and stewardship of streams for Santa Clara County's 1.9 million residents. Ms. Camacho joined the district in March 2012 as the Chief Operating Officer of Watersheds Operations.
As CEO, Ms. Camacho is responsible for an operational and capital program at the district of over $501 million in FY2018. She has more than 25 years of long-range planning, program development, finance, and capital projects experience. She previously worked as the director of the Ventura County Watershed Protection District and prior to that position she served in the Ventura County Executive Office as deputy executive officer for finance and budgets.
Ms. Camacho holds a bachelor's degree in civil engineering (structural) from Stanford University. She currently serves on the Board of Directors for the California Urban Water Agencies, Bay Area Council, WateReuse, Silicon Valley Organization, San Jose Evergreen Community College Foundation, and a member of the Santa Clara City Managers' Association and the Bay Area Water Agencies Coalition.
District Counsel: Stan Yamamoto
Stan Yamamoto began his service as District Counsel on Feb. 1, 2010. Mr. Yamamoto is a graduate of San Jose State University and earned his law degree at the University of Santa Clara School of Law. His experience in the public sector encompasses more than 29 years including having served as the City Attorney for the cities of Redwood City, Riverside, and Modesto, California.
He was a recipient of a National Urban Fellowship and received recognition as Management Leader of the Year (Public Sector) by the A. Gary Anderson Graduate School of Management, University of California, Riverside.
Clerk of the Board: Michele L. King, CMC
Michele King was appointed Clerk of the Board on Jan. 12, 2010. As a Board Appointed Officer, she answers directly to the Board of Directors and supervises a staff of 10. Ms. King has been with the district since 2004 and has had over 12 years experience in providing support to elected officials of special districts. As a Certified Municipal Clerk and a member of the Northern California Clerks Association and the International Institute of Municipal Clerks, she brings years of experience and training to her job of assisting Board members and the public.
As Clerk, her priorities are ensuring that the public has access to the board's information and records as well as supporting board members so they can do the jobs they were elected to do. Ms. King is an expert in state regulatory requirements, such as the Ralph M. Brown Act, which ensures through posting and archiving of records that the public has equal access to the information of the district's elected officials. While overseeing her staff, she also makes sure the district complies with regulations and deadlines for board and committee meetings, agenda publications, frequent Groundwater Production Charge Protests, directors' schedules and travel plans, Lobbyist Ordinance compliance, public record requests, directors' expenses, and the Board of Directors, Board Advisory and Ad Hoc Committee, and Clerk of the Board annual budgets.
Chief of External Affairs: Rick Callender
Rick Callender was appointed Chief of External Affairs for the Santa Clara Valley Water District on May 8, 2017. Rick has worked for the water district since 1996, serving most recently as Deputy Administrative Officer for the Offices of Government Relations and Communications.
As the CEA, Rick leads the district's efforts in strategic external communications to the media, community, and the public. The CEA also leads all government relations efforts on local, regional, state, and federal levels, and is responsible for keeping the CEO and district staff informed of public policies that directly affect the water district.
Prior to joining the district, Rick worked as a Special Assistant to former City of San Jose Mayor Susan Hammer, as a Field Campaign Organizer for the California Democratic Party, as a Congressional Fellow for the United States House of Representatives, Subcommittee on Energy, and as a Congressional Fellow to Congressman Ronald V. Dellums.
He earned his Bachelor of Science degree in Industrial Engineering and Technology with an emphasis in electronic and computer technology from California State University, Chico, completed all coursework for his Master of Arts in Public Administration from San Jose State University, earned his Juris Doctorate from Northwestern California University School of Law, and is a member of the California State Bar. He has also attended and graduated from eight executive leadership programs at different universities throughout the nation.
Chief Operating Officer, Watersheds: Melanie Richardson
Melanie Richardson is the Chief Operating Officer of Watersheds for the Santa Clara Valley Water District.  She has been with the district for 27 years and has held the positions of Assistant Operating Officer of Water Supply, Deputy Administrative Officer of Corporate Business Services and Deputy Operating Officer of Watersheds Design and Construction.
She has a BS in Petroleum Engineering from Montana State University and is a registered Civil Engineer in California.  She has also completed the Executive Leadership Program from UC Berkeley Extension.
Melanie currently serves on the Board of Directors for NAFSMA and is a board member on the Bay Planning Coalition.  She served as Chair of the City of San Jose Parks and Recreation Commission for two years and was past President of the Northern California Chapter of WateReuse.
Chief Operating Officer, Information Technology and Administrative Services: Tina Yoke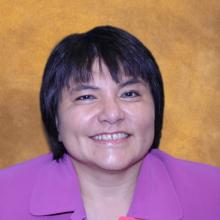 As Chief Operating Officer, Information Technology and Administrative Services, she oversees Information Technology, Procurement, Facilities, Fleet, Emergency and Security Services; Business, Customer Service and Warehouse and Environmental Health and Safety units.
Tina has over 20 years of experience working in public service. Tina is a Certified Purchasing Manager (C.P.M.) and has worked in procurement, contracting and material and supply chain management for the Santa Clara Valley Transportation Authority (VTA), the City of Mountain View, and the City of San Diego.
Tina currently serves as Chair of the Santa Clara Valley Chapter of the California Association of Public Procurement Officials  (CAPPO) and has served as Director North, Treasurer, Vice Chair or Chair over the last 17 years for either the Santa Clara Valley or San Diego Chapters. Tina also served on the American Public Transportation Association's Procurement Steering Committee, providing guidelines and training for over 7,000-member transit agencies in the USA. Prior to public service, Tina held managerial positions as a General Services and Contracting Manager in the private and non-profit sectors.
Chief Operating Officer, Water Utility: Vacant